Sell
Whether you are first-time seller or a real estate mogul, selling a property is one of the biggest financial decisions you can make—each and every time. 
Home Value
The first step in selling your home is to estimate a sales price. Our tools and experience can help.
Market Reports
Our advanced market reports allow you to research neighborhoods, cities, and zip codes with an easy-to-use tool.
Custom Report
Allow one of our expert agents to provide you a free custom valuation report for your home and estimate how much money you can walk away with at closing. 
Tips on Pricing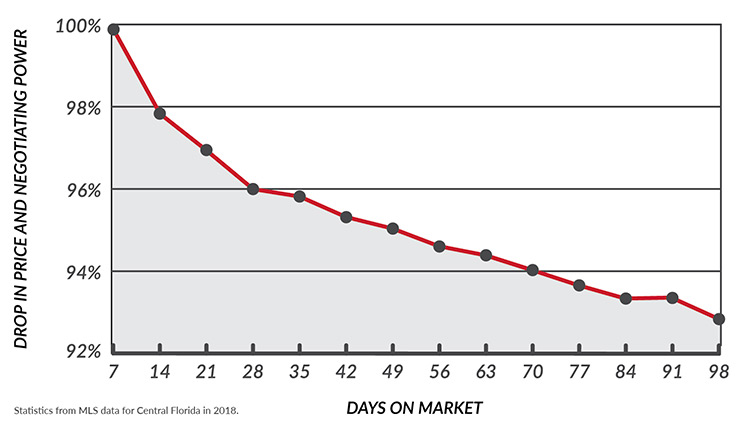 Don't leave pricing to machines. Automated valuations like Zestimates aren't reliable because they are based solely on computer algorithms without human interpretations.
Price fairly the first time. The numbers of days on the market greatly affect price perceptions, so price to sell.
No comparable sales? Get an appraisal. If there aren't enough comparable sale values in your neighborhood to set a price with confidence, you may want to consider getting an appraisal before listing your property.
Marketing matters. Price perception is greatly influenced by listing descriptions, photography, video t0urs, listing syndication, and more.
Don't jump at the highest offer. Other factors like repairs, appraisal, and financing can affect the buyer's ability to close.
Request a Custom Home Value
We promise not to sell or share your contact information, but we may need to ask you questions before we can finalize the value for your house. 
Expertise
When selling your home, expertise matters. Partner with a knowledgeable and experienced agent.
Better Agents
Real estate is rife with complexities, jargon, and unknowns. Our experienced agents can guide you through the entire process.
Full Time Agents
Mainframe agents are committed to their full-time careers as real estate professionals. 
Experience
On average, our agents have been licensed for more than 10 years. 
Our Agents Sell More
Agents at Mainframe sell almost 2.3 times more homes than the average agent.
Our Listings sell faster
Our agents sell their listings 38% faster, which is almost twice as fast as agents at other companies.
Company-Wide Commitment
Each agent is backed by a company-wide effort to help our customers achieve their goals and dreams.
Agent Collaboration
Our experienced agents share their knowledge and support each other when needed.
Marketing Services
Our marketing department provides agents with beautiful marketing so they can focus on their listing.
Broker Support
When they need it, our agents can quickly contact the broker for support on transaction issues.
Selective Hiring
We've set the bar higher than most real estate companies by selectively hiring reputable agents. 
A Custom Marketing Strategy for your Home
Each property is different and requires a unique approaching to marketing.  You and your listing agent will work together and agree upon the best strategy for positioning your home for sale.
Photography
Photography is online curb appeal. Listing photos are a critical factor and can determine how quickly a home sells and for how much.
Almost every buyer starts their home search online. When buyers are rapidly searching through hundreds of listings, snap-second judgments are made based on the photos they see. High-quality photography matters.
Trusted Photographers
The photographers on our team are thoroughly vetted and highly skilled at real estate photography.
Advanced Editing
High-quality editing is not as easy as it sounds. Our expert photographers have mastered the process.
Weather Corrections
The weather is not predictable, but skies are always blue in Mainframe photos.
Add-Ons Galore
Options for twilight photos, virtual staging, and more are possibilities, depending on the property.
Syndication of MLS listings to hundreds of websites is not a built-in feature available to all real estate agents. Mainframe Real Estate uses the most sophisticated channels of distribution and keeps listings updated across the Internet.
The Multiple Listing Service is where Realtors search for properties.
Syndicaton to over 150 major real estate websites.
Syndicaton to thousands of brokerage websites.
International Website Syndication to over 100 global sites in 60 countries
Through Florida Advantage MLS, our listngs are accessible to most agents state wide.
Updates to your listing are automatically distributed across the internet
Marketing Enhancements
Not every marketing strategy is the same. You and your agent will decide if the following add-ons are the best way to market your home for sale. 
Open Houses
A staple in real estate sales, open houses are an efficient means of concentrating a large number of showings into a limited time frame.
Staging
People want to live in a place that feels like home. That's why furniture staging can enhance the perception for buyers.  
Video Walkthrough
Video is the leader for marketing enhancements, giving buyers a more complete overview of the property and its floor plan.
DRONE PHOTO + VIDEO
Large lots, water views, and other unique properties can benefit from a birds-eye view.
Twilight Photos
There's a special time of day right before the sun has set when properties are shown in a different light.
Even More
Depending on the property and circumstances, there are even more ways to market a home for sale. Your agent may discuss other creative ways to promote your home for sale. 
Ready to Get Started?
Whether you're looking to buy or sell, allow our expert agents to help guide you through the process.
Talk to An Agent
We promise not to sell or share your contact information with anyone else.