Tenant Tools
Below are tools for tenants or prospective tenants of properties managed by Mainframe Real Estate. 
Rental Application
File a rental application for a property listed or managed at Mainframe Real Estate.
Maintenance Requests
Submit a maintenance request for a property managed by Mainframe Real Estate.
Tenant Resources
View this collection of resources designed for tenants, including general maintenance guidance and the Florida Landlord Tenant Law.
Property Management
There are many ways our experienced agents can help you increase your bottom line and take the hassle out of managing your property.

Custom Software
Mainframe Real Estate has created proprietary software that reliably controls the finest details of property management, striving for error- and hassle-free transactions.
Easy-to-Read Owner Statements
Get straightforward and detailed monthly owner reports directly to your email.
Rent Collection, Simplified
Our electronic rent collection system creates consistent owner payouts.
Maintenance Requests
Take advantage of our expert and reliable vendor network for all your maintenance needs.
Leasing Services
Our property management offerings also include a menu of leasing services, from pricing and preparing your property for rent to selecting tenants and executing lease agreements.
Leasing Services
Rent your property faster—and to the right tenants. Let our experts do the job for you.
LISTING SYNDICATION
Promote your property to the largest possible rental market. Our comprehensive listing syndication services will increase viewings and help you rent your property faster.
COMPLETE BACKGROUND SCREENING
Don't rent to just anyone. We'll provide complete background reports on your prospective tenants, including credit reports, criminal history and verification of employment and previous residence.
INTELLIGENT LEASE AGREEMENTS
Learn how our experience, custom software and innovative approach to property management can improve your bottom line.
HOW IS RENT COLLECTED FROM TENANTS?
Our unique rent collection process automatically collects rent from the tenants on the 2nd day of each month. This process ensures that rent from all tenants in our property management division are received at the same time. This allows us to reconcile effectively and create predictability for our owners receiving funds. If there are insufficient funds, we find out quickly and follow through to remedy the situation. Tenants know this is the process before filing their rental application, and helps ensure that only the most qualified tenants apply. While this automatic rent collection sounds typical, most property managers that have electronic payments do not have this ability.
WHAT'S Better ABOUT THE LEASE AGREEMENTS?
If a tenancy goes perfectly, the fine details of a lease agreement may not seem important. However, the written lease is a property owner's only protection when things don't go according to plan. The laws outlined in Florida Landlord Tenant Law only set a baseline of the legal agreements that an owner can have with a tenant. Our attorney-prepared lease agreement covers almost every imaginable scenario and  protects the owner against unforeseen issues. Our lease agreements are thoughtfully crafted and based on decades of property management experience. In addition, our management agreement and lease agreements are built to work together. Our lease agreements put owners' minds at ease.
WHAT'S DIFFERENT ABOUT THE OWNER REPORTS?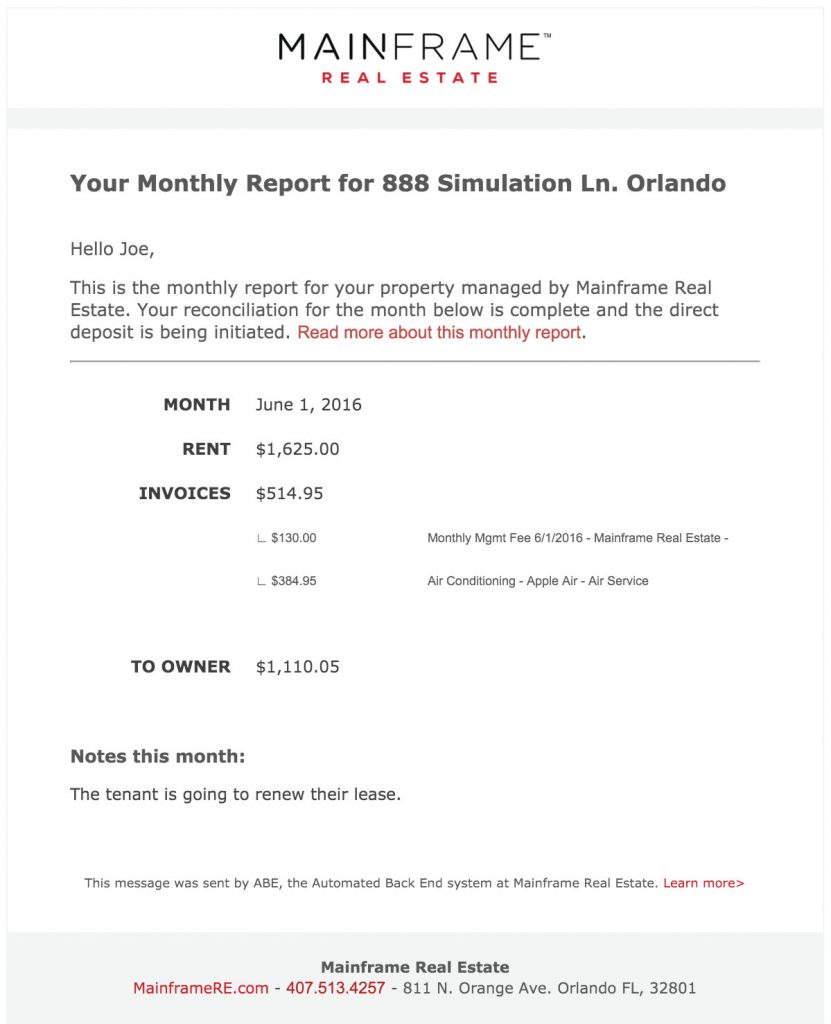 Most property management companies provide monthly owner reports in the form of balance sheets that are confusing to read. This is partly due to the fact that other property managers do not have custom software. The intuitive foundation of our software makes owner reports much easier to read.
Each month, property owners receive an email report from ABE with a breakdown of the monthly income and expenses. Below is a description for each section of the ABE management reports:
Month: ABE sends the owner report when the account is reconciled for the month. Only one report is sent each month.
Rent: This is the amount of rent received for the month listed.
Invoice Total: This represents the total amount of invoices for the month.

Each separate debit or credit is listed on its own line.
Vendor invoices are attached to the email with the report.
A negative number (ie: -$100) is actually a credit against the invoice total.

To Owner: This is the amount due to the owner during this month. A separate email from Bill.com will notify the owner of the exact date of deposit.
Notes this Month: Used for describing things that affect the month report.
We have plans to create reports that owners can request on demand to their email. Until then, if you would like a history of your account, please email Accounting@MainframeRE.com with your request.
HOW DO TENANTS SEND MAINTENANCE REQUESTS?
When a tenant needs to file a maintenance request, they do so through our online form. This form sends a request into our back-end system, where it can move through the work-order and into completion.
Equality Promise
We do not discriminate against anyone because of their race, color, disability, religion, sex, familial status, national origin, sexual orientation, or gender identity.
Ready to Get Started?
Whether you're looking to buy or sell, allow our expert agents to help guide you through the process.
Talk to An Agent
We promise not to sell or share your contact information with anyone else.