Embrace the flavors of fall with these delectable trio of desserts! From the irresistible crunch of homemade chocolate toffee to the warm indulgence of pumpkin bread pudding and the comforting spice of apple sauce cake, these recipes will give you the coziest autumn vibes!
Irresistible Homemade Chocolate Toffee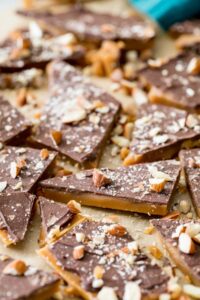 Ingredients
2 cups plus 2 teaspoons butter divided

2 cups sugar

¼ cup water

1 ½ cups milk chocolate chips

*Optional* 1 ½ cups finely chopped pecans
Process
Prepare Baking Sheet: Grease a 15″x10″ baking sheet lined with parchment paper, using 2 teaspoons of butter.

Melt Butter: In a large, heavy-bottomed pot, melt the remaining butter over medium heat.

Combine Ingredients: Add sugar and water to the melted butter. Cook over medium heat, stirring continuously, until the mixture reaches 300°F (hard crack stage) on a candy thermometer.

Pour onto Baking Sheet: Quickly pour the mixture onto the prepared baking sheet.

Add Chocolate Chips: Immediately sprinkle chocolate chips on top of the hot mixture. Let them soften, then spread them evenly over the surface.

Optional Pecans: If desired, sprinkle pecans over the top.

Cool and Harden: Allow the mixture to cool and harden for at least 1 hour.
Decadent Pumpkin Bread Pudding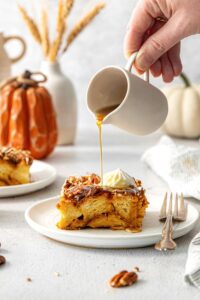 Ingredients
1 pound loaf sourdough or artisan bread (12 cups bread chunks)

5 eggs

2 cups whole milk

1 cup pumpkin puree

¾ cup brown sugar

½ cup granulated sugar

½ tablespoon vanilla extract

1 ½ tablespoons pumpkin pie spice

1 pinch salt
Process
Preheat the oven to 350 degrees Fahrenheit. Butter or grease a 9 x 13-inch baking dish.

Cut or tear the bread into 1-inch squares. Place it in the baking dish and place in the preheating oven for 5 to 10 minutes until lightly dried but not browned.

Meanwhile, whisk the eggs. Then whisk in the milk, pumpkin puree, brown sugar, granulated sugar, vanilla, pumpkin pie spice, and salt. Pour it over the bread in the pan and mix it with your hands until fully coated.

Place in the oven and bake 45 to 50 minutes, until it is puffed and golden and you can no longer see standing liquid. Allow to cool for at least 15 minutes before serving. 
Make ahead: This recipe is great made ahead: make it day of and allow to sit at room temperature until serving, or make it 1 day in advance and refrigerate. If you'd like, you can crisp up the top by reheating it in a 350 degree oven until warmed.
Scrumptious Apple Sauce Cake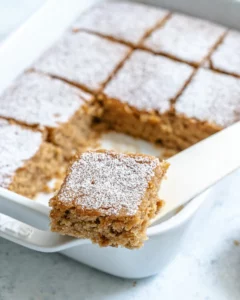 Ingredients
1 ¼ cups all-purpose flour

2/3 cup light brown sugar, firmly packed

1 teaspoon ground cinnamon

¾ teaspoon baking powder

¾ teaspoon baking soda

¼ teaspoon kosher salt

1 egg

⅓ cup olive oil

½ cup plain Greek yogurt

½ cup unsweetened applesauce (or homemade applesauce)

1 teaspoon vanilla extract

Powdered sugar, for dusting
Process
Preheat the oven to 350F. Grease an 8-inch square baking pan.

Put the flour, brown sugar, cinnamon, baking powder, baking soda, and salt into the baking pan. Use a fork to thoroughly mix the ingredients together.

Use your hands to make a hole in the center of the dry ingredients. Into the hole, crack the egg and add the olive oil, yogurt, applesauce, and vanilla. Use a fork to mix the ingredients together until smooth and blended. Smooth the top of the batter with the side of a butter knife.

Bake until the cake is fairly firm when you press lightly at its center and a toothpick inserted in the middle has no wet batter sticking to it, 25 to 30 minutes.

Remove from the oven and leave on the counter to cool completely, 1 hour. Leave the cake in the pan. Dust with powdered sugar. Cut into pieces and use a small spatula to lift them from the pan. Store at room temperature for 3 days or refrigerated for up to 5 days. 
As the days grow shorter and the nights cooler, may these desserts continue to fill your home with the essence of fall's coziness. We hope these recipes have added a touch of sweetness to your autumn days. Happy baking and enjoy these simple joys of the season with your loved ones!