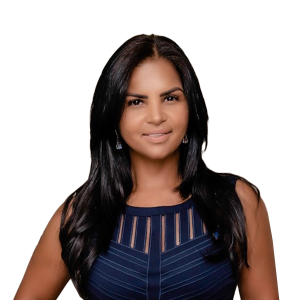 Jessica Polanco
321.443.2442
mainframeRE.com
DESIGNATIONS
COMMUNITY INVOLVEMENT
Wells Fargo Involve
City Of Life Church
I started on my real estate career in 2015. Sold over 100 homes from new constructions for leading builders in Central Florida and moved on to resell home. I was recognized as one of the 500 top producers in Orlando Florida.
In 2004 I started out my career in the title industry. I went from processor to getting my license to become a closer for title. My father was a very well known and successful realtor in Kissimmee he helped so many families achieve their dream and being part of the American dream of owning a home. After my father's passing I decided to change industry and go into corporate America. For years I knew that I didn't belong there and that the passion for helping others was no longer there. I then knew what I had to do, do Real Estate full time and carry the legacy.
For relaxation I love to go shopping and spend time with my family and friends, run on the beach, rollerblade and simply enjoy life.
I pride myself on providing the same high level of service to all clients whether it's their first home or their dream home. I find it very exciting and rewarding to be part of turning a clients dream into reality. I exceed my clients expectations to ensure that the Ultimate goal is accomplished. I will be delighted to help make your real estate dreams come true anywhere in Florida. When you work with me you will see the sincerity, warmth, and the total dedication to my clients. Let's start the journey!!!
Our first time home buying process was painless thanks to Jessica. She guided us through every step of the way and was very thorough when answering our questions. My husband and I felt so blessed to work with a realtor that offered so much patience and professionalism. Jessica proved herself to be  authentic and always had our best interest in mind. Honestly, if I could give more than 5 stars I would! I would definitely work with her again!!
Jessica help us purchased our first home April 2018 she was the most humble, patient realtor a person could ask for. The process was stressful at first but thanks to Jessica not giving up on us she made our dream come true. I would highly recommend her to anyone looking for realtor. She's the best  hands down
Jessica was an amazing Real Estate agent for us during our first home purchase. She helped ease some of the tension we had during the process of making such an important purchase. We are now happy homeowners and in the process made a really good friend. If we make anymore home purchases I will  definitely be requesting her expertise. Thank you Jessica, God bless
Muy profesional en su trabajo,es una persona servicial, eficiente en su trabajo, Nos trato como amigos y fue muy paciente conmigo y mi esposa, es digna de recomendar. En todo momento desde el principio hasta el final de la compra de la casa, cada pregunta y cada inquietud encontre las palabras  necesarias para entender el proceso. Hoy en mi nuevo hogar, miro atras y no puedo dejar de pensar en que para realizar todo con la compra de una casa parte de esa alegria se la debemos a personas como tu profesionalmente. Gracias Jessica.
Jessica Polanco is the best realtor ever. When i met her, i was almost ready to give up. I had been searching for a home for 9 months. I had worked with two other realtors and i felt that i was on my own. Jessica was my last attempt to find a home before calling it quits. Not only did she  reassure me that she would find me the perfect home of my dreams, she went above and beyond. She helped me every step of the way from finding a home, to negotiating with the seller, to financing, to finding an inspector, to finding home insurance. I felt so comfortable with her. She even came to my home after hours to help me gather all the info needed for financing and even helped me submit all paperwork, since i'm not very computer savvy. It has been 2 months since i purchased my home and Jessica has contacted me twice to see how i'm doing in my new dream home. She sent me a welcome home gift basket and a pie for Thanksgiving. All in all, i can say my complete experience with Jessica was the best, most pleasant experience. I will definitely recommend her to all my friends and family and even strangers. She is the absolute best in the business. 5 stars all around